Rationale

The Beacon Primary School does not offer a placement that is a long-term alternative to mainstream or special education. It is a short-term provision which seeks to support all those involved in securing a successful transition into the most appropriate educational setting for the individual, whether it be returning back to mainstream or a more specialised provision.
At The Beacon Primary we value education in the broadest sense as it has the power to change and improve people's lives. Our curriculum has been carefully planned to provide our children with the requirements of the National Curriculum, delivered through pertinent topics, with local links, that provide a broad and balanced curriculum filled with enrichment and experiences. We use the curriculum as the progression model and intelligent use of assessment to inform curriculum design.
Alongside a curriculum that is unique to our children, at The Beacon Primary we also teach and value progression in life skills:
Perseverance
Motivation
Sociability
Attention skills
Self-regulation
Anger management
Self-esteem
The ability to defer gratification
We believe that progression is best achieved when our children are challenged through subject outcomes and high expectations. Through our broad and balanced curriculum, we aim to develop our children's emotional and intellectual intelligence, whilst broadening their academic and experiential horizons.

The school has a high adult to child ratio. This ensures personalised learning and immediate feedback, enabling the teachers to provide scaffolding, depth and mastery throughout the lessons as required. All staff are committed to measuring impact of all that we do and consult regularly with both staff, children and parent/carers.

Our vision is to have a curriculum which meets all statutory requirements of the 2014 National Curriculum but is personalised and based on first hand experiences.
Annual Curriculum Overview 2022/2023
These are the themes we will be following that link learning across Foundation Subjects this year. Where subjects do not enhance the cohesion of learning or understanding, they are taught separately.
Please see Class Overviews for how subjects are delivered each half term to date.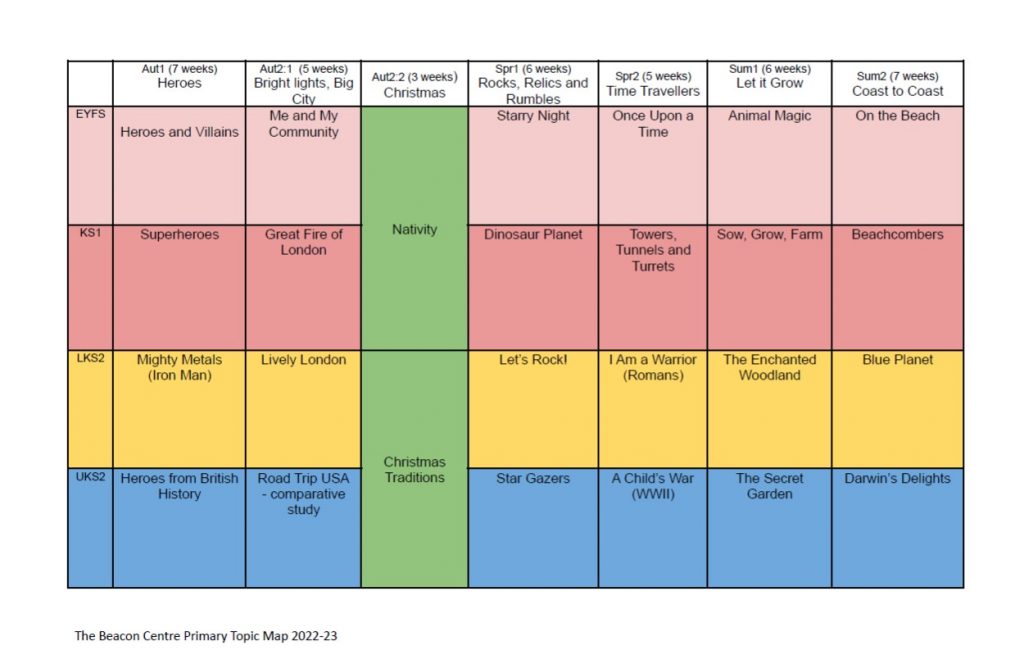 Termly Primary Class Overviews
If you have any queries of comments about the Curriculum at The Beacon Centre – Primary Site – Please Contact Mrs Crombie – Assistant Head – [email protected]